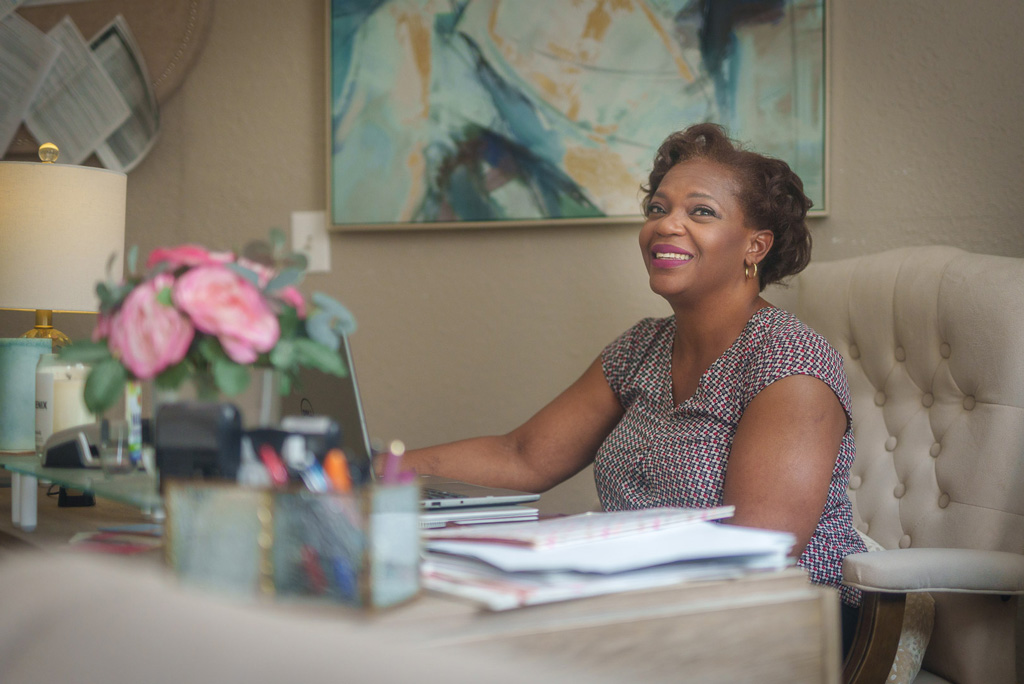 April Thornton, Anchored By Peace, Tustin, CA
Have a question about Lendistry, our loans, or our grants? Take a look at our most frequently asked questions.
What is Lendistry?
Lendistry is a minority-led small business lender and SBA Preferred Lender with a fully online application process offering a wide array of loan products. Lendistry also partners with various state and federal agencies to administer their grant programs using our online platform and team of professionals.
Is Lendistry a bank?
No. Lendistry is a lender, but not a bank. By definition, banks take deposits and keep them in accounts for customers.
Where is Lendistry headquartered?
Lendistry is headquartered in Southern California but has offices in multiple states and works with customers and small businesses nationwide.
What is it like to work at Lendistry?
Lendistry is a "work hard and be nice" environment with a progressive and energetic company culture. Most of our team is based in Southern California, but we also have offices across the country. Learn more about careers at Lendistry here.
What can I expect when I apply for a loan?
Our online application requests information about you, your business, and your business's finances. It then asks you to upload official documents that support the information you provided. In order for us to follow laws and regulations required for lenders, we have to see these documents and perform verification on your identity and finances.
How quickly your application proceeds depends on the type of loan, how quickly you provide additional information, and other factors, so we can't give a one-timeline-fits-all answer.
We have guides, videos and resources to help you through every step of the way. Please visit Lendistry.com/application-guide.
How do I get an update on my loan application?
Visit MyLendistry to learn about the status of your loan application and more. If you prefer to talk to a person, you are also welcome to call us! Phone numbers are located on our Contact Us page.
Does Lendistry do SBA loans?
Yes, Lendistry is a Small Business Administration (SBA) Preferred Lender and offers SBA 7(a) financing. Learn more and apply here.
What is your minimum credit score?
For most loans, our minimum credit score is 640. However, we participate in several programs that may allow us to be more flexible if you're not quite there.
What are Lendistry's interest rates?
Our rates can vary widely because we offer so many different programs.
Although our rates are subject to change, our traditional small business term loans typically range from WSJ prime +2% to WSJ prime + 6.0%. Our traditional SBA 7(a) loans typically range from WSJ prime + 2.25% to WSJ prime + 6.0%. These rates don't apply to our more specialized programs. All rates depend on the type of loan, the repayment term, and the borrower's credit and finances.
For example, some programs, like our Small Business Loan Fund designed for businesses in distressed areas, have even lower, below-market rates.
Can my organization work with Lendistry as an ISO or referral partner?
We're open to referral partnerships. If you are looking to work with Lendistry, please fill out this form.
What can I expect when I apply for a grant?
Every grant program is different. Because we administer the programs and don't design them ourselves, the process is determined by the agency offering the grants. But basically, you can expect to provide information about your business and a variety of documents to support that information, like identification, tax returns, and more. These are used to prevent fraud, verify your identity and information, and to help determine if you're eligible for the grant.
You can expect to hear from us throughout the process depending on the communication strategy set in place by the federal or state agency offering the grants.
How do I get an update on my grant application?
You can view your status on the portal where you applied for your grant. Please be sure to save your login credentials and portal URL, and do not visit MyLendistry.com to view your grant application, as that system is for our loans and won't recognize your username. If you prefer to speak to a customer service representative, you are welcome to call us! Phone numbers for all currently active programs are located on our Contact Us page.
How can I confirm that a text or email I received is legitimate?
We use email as our main form of communication, and if you opt in, we may also send SMS texts. To confirm that you received a legitimate communication from Lendistry please call our Customer Experience Center and they will confirm for you. Phone numbers for all active programs are located on our Contact Us page.